Edsel Promotions
---
The Edsel Show was aired on the night of October 13, 1957. The show, with Frank Sinatra, Bing Crosby, Rosemary Clooney, Louis Armstrong and a cameo apppearance by Bob Hope, was watched by 53 million viewers and introduced the Edsel to a nationwide TV audience. We hope that you enjoyed The Edsel Show.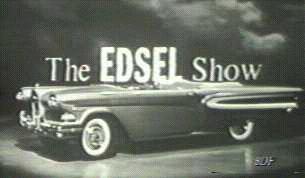 If you missed the Edsel Show, click here!
---

Here's the winner of our "Wagon Train Pony Contest" taking delivery of his prize. Little Billy Watson and his dad check out the pony that they won by picking a name for the pony, and taking a test drive in a new Edsel. The name is so good that we're sending it to Ford, and telling them that it would make a great name for a car.


---

Don't forget to watch "Wagon Train" brought to you every week by Edsel.



Click HERE to hear Ward Bond from "Wagon Train" in a radio ad for our Edsel Pony Contest.










---