58 Pacer Series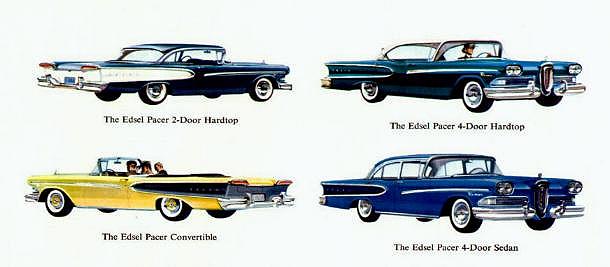 The Edsel's big safe brakes need no periodic adjustment. You adjust them automatically in the course of your day-to-day driving. Every time you drive in reverse and touch the brakes, the simple self-adjusting brake mechanism takes up the slack if adjustment is needed. You get the same pedal "feel" each time you stop. You will find many things about this Edsel Pacer that are different than any car you have ever driven before. The elegant originality of styling - from the vertical accent of its grille to the sweep of its flight deck, this classic styling is the Edsel's, and the Edsel's alone. But if elegance is the accent, the emphasis is on performance. Under it's long straight hood the Edsel Pacer is powered by the E-400 engine. Combined with ball-joint front suspension and Edsel's guard-rail frame, you enjoy a new sense of stability, especially on curves or hills.
Clearly, the Edsel is one of the country's most capable cars. Yet, with all its outstanding performance features it is one of the country's safest cars, too - by any measuring standard. One small example of the Edsel's regard for your safety: You can pre-set a miles-per-hour dial on the instrument panel which lights up the speedometer in red when you exceed the speed limit selected.
Any one of Edsel's outstanding advances - the Edsel engines or Teletouch Drive - would make it one of America's most important cars. And the sum-total of dozens of little things can make the Edsel the most convenient, most comfortable car you have ever driven. For example, on the Edsel Pacer you can have a switch on the instrument panel that lets you unlock the trunk without the bother of getting out of the car.
You can equip your Pacer with Dial-temp - the single dial that lets you select temperature, quantity, and direction of air with one twist of the wrist. A warning light that flashes when oil is one quart low. Another available Edsel feature is a signal that tells you when the fuel tank is within four gallons of "empty".
But most of all, styling elegance makes these Pacer models exceptional cars to own. The long sweep of the front fender and the insert scallop that wraps around Edsel's flight-deck design at the rear, emphasize grace and lowness. The sweeping cut of curved wheel openings further highlights Edsel's look of fleetness. This is a new kind of beauty, a new mark of swift mobility in car design, and you'll find it only in the Edsel.
---
Click models for individual specifications

Four Door Hardtop $2,618
Two Door Hardtop $2,564
Four Door Sedan $2,499
Convertible $2,771


Click here to go to the Pacer Showroom and see what's on the lot!


Back to the sales lot
Back to options
Email: smithmotors@hotmail.com