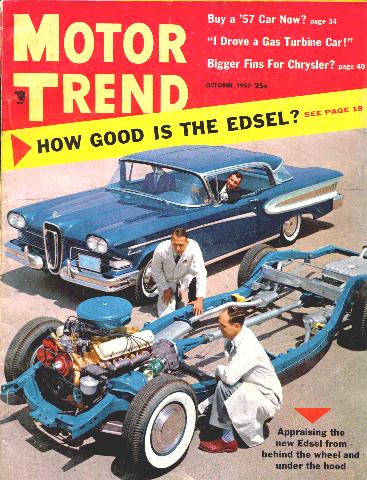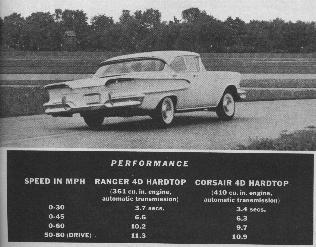 ...Definitely a cut apart from the majority of cars, it is extremely doubtful whether there will be a style remotely like the Edsel, at least in most components, within the next 12 months. However, lest we be accused of unduly "raving" about it, let us say this: Edsel has the several unique approaches mentioned above - but there were untold opportunities for more. To some all the subtly increased fanfare over the past two years may seem to have been unwarranted - to others who can appreciate a fresh approach to styling and desire distinction unobtainable in Ford, Chevrolet, or Plymouth, the Edsel may well be the answer. The Edsel performs fine, rides well, and handles good. Our road test, later, will tell more.
---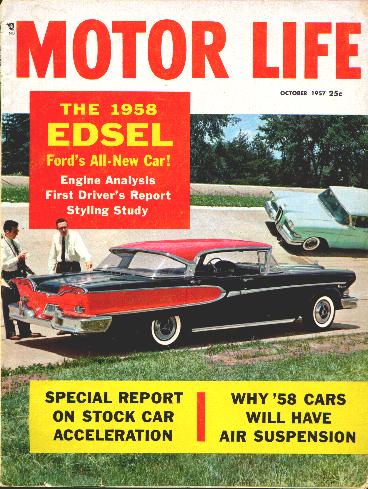 The use of a vertical grille on the new Edsel is a precedent-shattering event for domestic automobile manufacturers and could very well be an indicator of things to come. First impressions, however, count heavily in selling a piece of merchandise and the first look of an Edsel front end will undoubtedly leave some people as cold, as it will some hot to buy... At any rate, all eyes will be on Edsel sales and it is a distinct probability that competitors will be charting sales as accurately as will the Edsel division itself. If sales are good and little sales resistance is shown to the vertical grille, then look for other manufacturers to follow suit.



---
The decision to add the Edsel to the Ford Motor stable of cars, at a cost of a quarter of a billion dollars, was strictly self-protective. The company figured it was losing 100,000 customers a year to competitive manufacturers as Ford car owners "upgraded" to costlier vehicles. Chevrolet owners could upgrade to Pontiac,Buick or Olds,and Plymouth owners to Dodge, De Soto, or the Chrysler Windsor. Ford owners could upgrade only to Mercury and still stay in the family.
Email: smith@edsel.net