A Visit to Louisville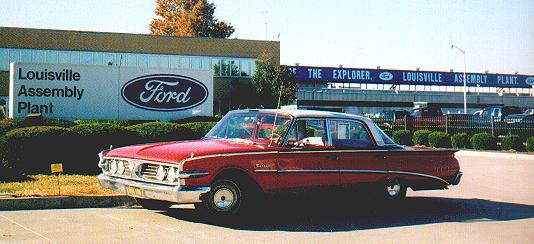 One of our website visitors, Doug Harley, from PA, was able to visit the Ford Louisville Assembly Plant, where most Edsels were produced, with his 1960 Edsel. Here's the story as Doug related it to us:

This is what I recall about the plant. I visited it on October 1, 1999, the 40th birthday of my 60 Ranger 4 door sedan (#1123). The lobby still looks much the same as it did when it was built in 1955. It has that 50's modern look to it. Light colored maple (or was it oak?) paneling on the walls and lots of glass across the front. It reminded me of the lobby of my high school, which was built in 1954. There is no receptionist, just a phone and personnel directory. I started calling numbers until about the tenth time someone answered. I explained that my Edsel was "born" at the plant forty years ago to the day and would it be possible to get a tour? After about fifteen minutes, the Security Chief came out and offered me a personal tour. We went through a door and down a long hallway. Again, it looked like my old high school. There were large, rectangular green tiles on the wall and asphalt tiles on the floor. At the end of the hall we went through a doorway, got in a golf cart, and off we went.

When we got to the assembly line, I was like a kid in a candy store. Seeing all those Explorers being built fulfilled a lifelong dream of mine. It was fascinating! I saw sheet metal being welded together, engines being installed, miles and miles of parts being transported to each workstation where workers installed them, and then the end product rolling off the end of the line. Everything is computerized now, barcodes on everything. They still print out a build sheet, but it's only used as a back up. Computer screens at each workstation tell the worker what part to install. The computer traces each vehicle throughout the assembly process. It was really neat!

In the back of the building is a railroad depot, where railcars of supplies are dropped off and new Explorers are shipped out. Oh, and I forgot to tell you the best part! The Security Chief starts the tour by telling me that this is a special day. They are building pilot models of the new 2001 Explorer Sport Trac today. And yup, there they were, sprinkled in amongst the regular Explorers, just like forty years ago when they sprinkled Edsels in amongst the Fords. It was interesting to see how the workers coped with this newfangled thing. Didn't seem to bother them a bit.

After about two hours, our tour was over and we exited the plant in the golf cart and drove over to #1123, which was parked out front. The Security Chief checked out #1123, asked a few questions, I thanked him, and then drove out the front gate (by the way, there's no guard here, just drive on in!)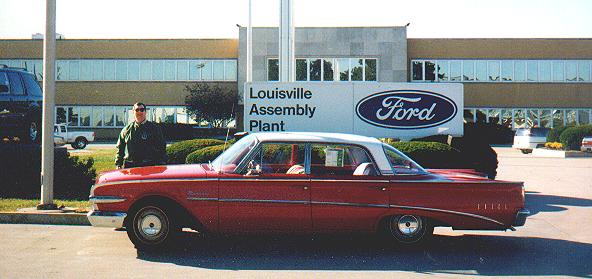 Now here's a strange story. I'm driving on the interstate, just outside of Louisville, when I notice a red car on the shoulder with its hood up. Looks like an old car too. Hey wait! That's an Edsel! I slam on the brakes (which ain't easy with these old manual, drum brakes!) and pull over to the side to help.

I approach the '59 Corsair 4 door sedan and it turns out it was a local owner who was out for a drive when the carb acted up. He had fixed it on his own, but wanted a look at #1123. He had never seen a '60 before. I showed him my Edsel, and then we walked back to look at his. He had just bought it a few months ago from the original owner and it was in pretty good shape. He opened the hood to show me the 361, when we noticed transmission fluid leaking from the line that leads to the radiator. Seems that the original owner had a hole in the line, which he mended with some electrical tape. The tape had dried out and fallen off, so now we had a leak to fix. The owner had a great idea. He cut a couple of inches off of the wiper vacuum hose and slipped it over the transmission line. It worked! I gave him a spare bottle of transmission fluid that I had and departed.

Now I ask you, how likely is it that an Edsel owner comes to the aid of another Edsel owner whom he has never met? Fate or coincidence?

Anyway, that's the story of me and #1123 and our visit to Louisville. Hope that you enjoyed it!

(Webmaster Note: It is probably best that you call ahead for info on plant tours before making a long trip to Louisville. Call the plant at 1-502-364-3673 and a recording with a main menu will come on. From the main menu you need to select #5. This is about the tours of the plant. )

BACK
Email: smith@edsel.net