Never Before So Much That's New

On this page you will find many things that make the remarkable new Edsel different from any car you have ever owned. The list of new Edsel features is long, and here you will find just a few highlight examples: a single dial that lets you select the temperature,quantity and direction of air, even air conditioning, with one twist of the wrist; a warning light that tells you when you exceed a pre-set m.p.h. limit; another that flashes when the oil is one quart low; a release that lets you open the luggage compartment from the driver's seat.
Inside, you will sense a new measure of spaciousness - the low floors, the wide, deeply cushioned seats and the great expanse of glass that makes viewing so pleasant. This too, is the product of Ford Motor Company engineering. Its purpose is to create new standards of enjoyment, comfort, safety, and convenience.
As much as the Edsel's exclusive Teletouch Drive and powerful new V-8 engines, these original features and others like them mark the measure of Edsel's greatness.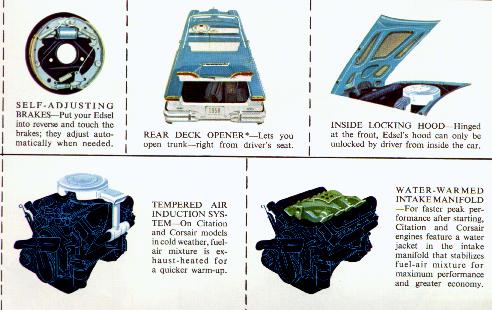 Back to the sales lot
Back to options

Email: smithmotors@hotmail.com