Original Edsel Documents

David Fleischer, in Utah sent this photo of his Citation 4 door hardtop.
Below, David shares his original documents for the car.
Click on the image for a larger picture of the document.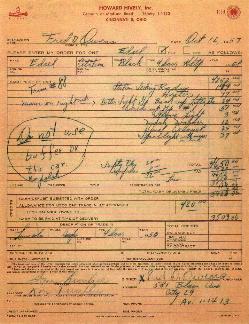 This is the form that was filled out when the original owner, Fred Owens, ordered the car on October 12, 1957, just a little over a month after "E-Day". Note some of the options ordered include a spotlight mirror, compass, and dual exhaust, as well as the Better-sight group, which included backup lights. The full cost of the car came to $4,682, but Mr. Owens received $880 off this price.




According to the data plate, the car was produced on November 1, 1957. Just ten days later on November 11th., the car was delivered and this invoice was prepared for Mr. Owens by the dealership. The invoice is $20.60 higher than the order, presumably for the cost of the undercoating applied by the dealer. The dealer also installed the spotlight/mirror. Mr Owens got $420 in trade for his 1950 Lincoln!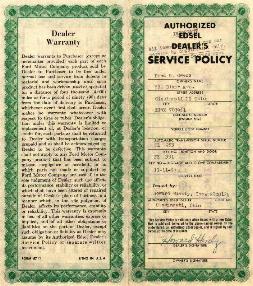 The Dealer Warranty and Service policy on Mr. Owen's new Edsel.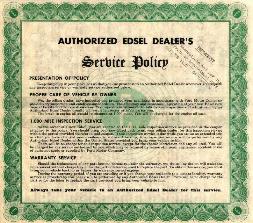 The Service Policy Certificate, seen here, is on the reverse of the page shown above.



David goes on to say,"I bought this car from Fred Owens on September 22, 1980 when he was 77 years old and still living at the same address! When I bought the car, it had not been registered since 1970 and had 71,000 miles. It started right up with gas and a battery."
Thanks, David for sharing these documents with us.


Email: smith@edsel.net