Boulevard Motors
Shelby, NC
We were recently able to make a connection between the Edsel dealership in Shelby, NC and an existing business, Young RV Sales. The Edsel dealership was originally called Boulevard Motors. Later, when Edsel sales floundered, it became part of Young Motor Sales, which was owned by the principal partner of Boulevard Motors, Ed Young. Later, the name was changed to Young RV Sales. Thanks to Mr. Young and his son Tom Young, we bring you these photos of this former dealership. If you need a new RV, give them a call!


---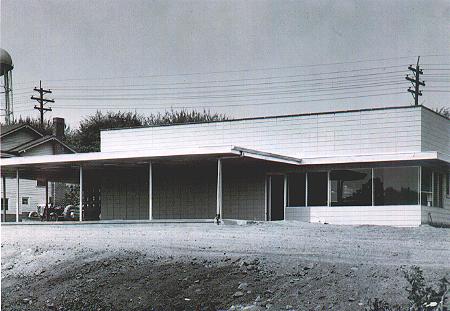 Mr Ed Young constructed this building at 203 East Dixon Boulevard especially for the Edsel franchise. This photo was taken prior to moving any cars in.

Boulevard motors received its Edsel Sales Agreement as of August 19, 1957, only 15 days prior to Edsel Introduction Day.

The building is now gone, and a Burger King sits on the site.

---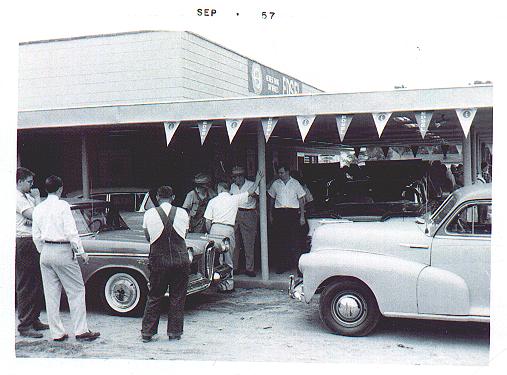 Edsel Introduction day on September, 4, 1957 brought many people out to see the new Edsels. It is hard to imagine that in those days, the introduction of new models would be such a big event, and when the new models were a new "make" of car, well then almost everyone in the community came out to see.

Prior to E-day, Edsel Division imposed strict requirements on the dealers to keep the car hidden from the public as long as possible, as this agreement outlines.




Tom Young told us he remembers they had to call out the local police to handle all of the traffic around the dealership, as folks parked everywhere to see the new Edsels!
---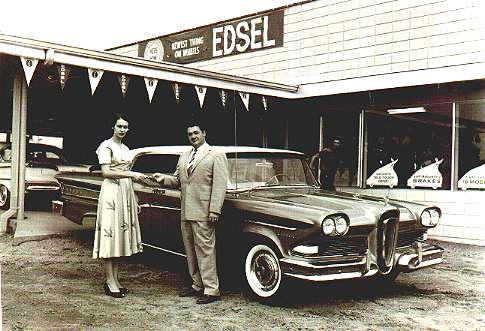 This appears to be one of the first customers of the dealership. Often, ads were taken out in the local paper showing the happy owner receiving the keys to their shiny new Edsel.

---



A photo from the dealership's "Wagon Train Pony Contest". This young lady seems to be quite happy about her win.

---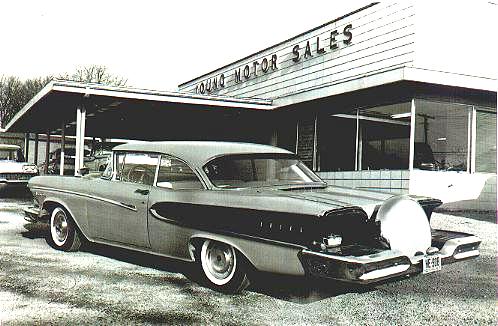 Another shot of the dealership building. This time with a continental-kit equipped Edsel parked out front.

---
This is a later shot of Young Motor Sales. What are those, 1960 Comets? Notice that there is a '58 Edsel in the "Safe Buy" Used car area (circled). The photo below is a blown-up view of that car. Also, note the similarity of the "Comet" sign to the ones used earlier for Edsel. Maybe an early attempt at recycling?


---
Dealer letterhead from a single remaining sheet with figures scribbled on it.

Young Motor Sales resigned the Edsel dealership on December 4, 1959 as this acknowledgement from Ford states, ending a 2 year and 4 month affiliation with the Edsel.

---
Back to options
Back to links
Email: smith@edsel.net