58 Citation Series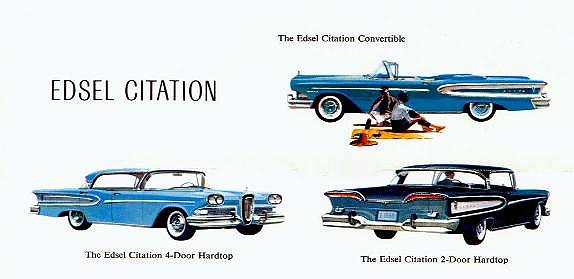 The Edsel is a car of surprises - and you find the chief of them in these long, low Citation models. It is power - power uniquely different, far more usable than you've ever known before.
Versatility is its first distinction. You'll find it gentles you through slow or crowded traffic, cruises effortlessly over the open road, yet masters the steepest mountain grades with power to spare. It comes from the Edsel E-475 engine, one of the two most advanced V-8s in the industry - both designed and built exclusively for the Edsel. To command this obedience from behind the Citation's wheel is a revelation. You look out over a long, straight hood no higher than the instrument panel before you. Directly in front of you is a major mark of Edsel's difference - exclusive Edsel Teletouch Drive, mounted right in the steering wheel center. Turn the key and put your finger to the Teletouch button - without lifting a hand from the wheel, you're under way. You lean back against shoulder-cupping contour seats - an exclusive Edsel design - beautifully upholstered in textured fabrics and embellished with bolsters of gleaming, craft-finished vinyls. Interior upholstery and trim have been carefully selected to harmonize with exterior colors. Here, too, is the luxury of spacious car-wide, floor-deep roominess. It's your invitation to leave care behind - and these three Edsel Citation models carry you from concentration to relaxation in silent seconds. Try the Edsel and you'll agree: "There's emphasis on performance but the accent is on elegance."
---
Click models for individual specifications

Two Door Hardtop $3,242
Four Door Hardtop $3,316
Convertible $3,489

Click here to go to the Citation Showroom and see what's on the lot!

Back to the sales lot
Back to options
Email: smith@edsel.net