1958 Pacer AMT Model
Have you seen the new AMT model of a 1958 Pacer that is on the market?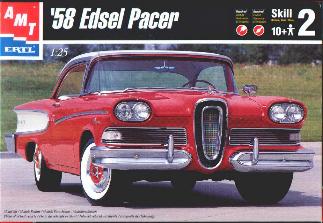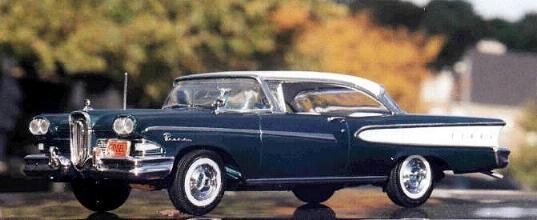 Gern Blanston sends us this photo of his first completed Edsel model and says that he has more waiting to be assembled.


True to his word, Gern Blanston sends us these photos of more AMT models he has completed.




He writes, "Here are two more Edsels...AMT/ERTL model kits. One frost green with gold & black...tri-tone like the promo I have..."



"...The other I have altered a bit. Red & black convertible with scratch built continental kit."

Thanks, Gern, for the photos!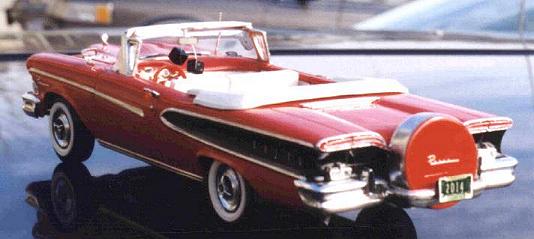 ---
Gern writes again..."Not too long ago I found an original '59 Edsel convert. AMT ,(already built), model on e-bay. Also,a resin copy of the AMT "60 Edsel in the same place. The '60 is built, and the '59 is restored...(Some shots of the 3 years of Edsel convertibles). Feel free to use the photos if you like. GB"




Thanks, Gern, for more great photos!


---
Here's a look at another version of this model that has been released!
Here's the newest version!


If you've built one of these models, send us a photo!
If you don't have one yet Evers Toy Store is where we got ours.
Email: smith@edsel.net