59 Edsel Design Confirmed!
The photographer of this out-of-focus spy photo, which we received a couple of months ago, claimed that this was the 59 Edsel design which will not go on sale for several months. The photo, which appears to have been taken at a Ford test facility, shows a 58 Pacer next to the unidentified car, which does bear a family resemblance, even though disguised as a taxi cab.
We can now reveal that this was, in fact, the 59 Edsel design, as more photos have been uncovered which show the new Edsels being put through their paces. Here at Smith Motor Company we can hardly wait to get these new, beautiful Edsels on the lot.


The beautiful 1959 Edsel Corsair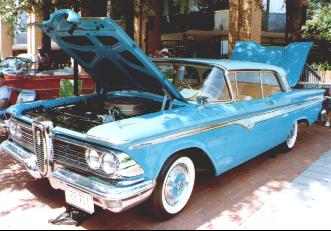 Here we see a 59 Edsel getting a checkup after a rigorous road-test.

Police work can really put a car to the test. A 59 Edsel, in police trim, is serving the citizens of an unidentified town.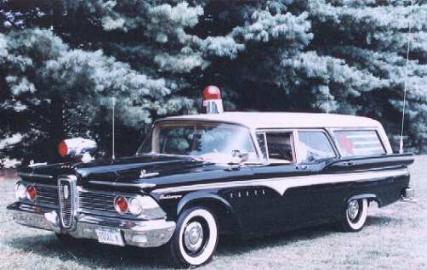 A 1959 Edsel ambulance


59 Villager Wagon and Corsair Hardtop